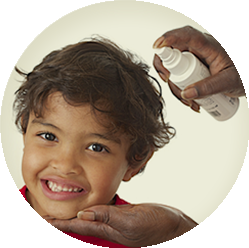 Use of the air conditioner
Put a bath towel around the neck to protect clothes..
Spray the leave-in conditioner.
Carefully comb from the roots.
Click out the comb several times during the process, and rinse it to get rid of lice.
Put the bath towel in a sealed bag and wash it at wash temperature of 60°C/140°F°.
Repeat the process daily with a clean bath towel.
It is advised to repeat the process for 10 days to ensure an effective treatment, since re-infestation is possible if any lice are allowed to remain.